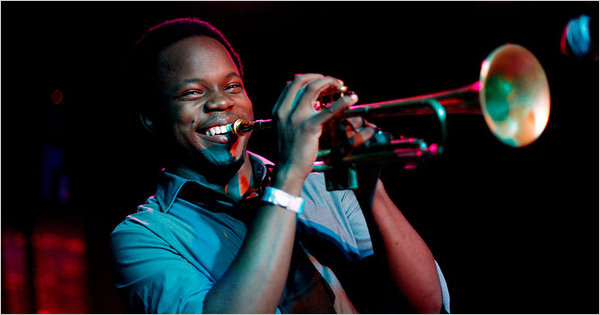 Audio clip: Adobe Flash Player (version 9 or above) is required to play this audio clip. Download the latest version here. You also need to have JavaScript enabled in your browser.
Download the PDF: Bb, Concert, Alto, Bass, Clef
Ambrose. My newest obsession on the trumpet. It took me months before I could remember his name "uhh…it's this long name and starts with A, but he's ridiculous!" but I'm sure I'll never forget it. Ambrose is the perfect mix of math and emotion. Right when you think he's lost you in a solo, he reels you back in with a sweet, warm melody, or just a straight up funky blues lick. Ambrose's sound is mesmerizing. It's always the first thing you hear, the sound of the instrument. Before all the licks, and all the "finger flapping" as Ambrose so humbly (he's clearly full of it) calls it, you hear the sound. Just the pure sound of the instrument. Your sound is the #1 most important thing in your playing. It might sound weird, but I truly believe that. How can you tell when it's Miles? It's that sound. Dizzy? Louis? Clifford? Same thing. It's their individual sounds, sometimes brittle, other times hypnotic, that make you go "No doubt about it, that's Lee Morgan." Well, it's no different with modern trumpet players. Ambrose has a sound so warm and so fuzzy, it's easy to overlook his improvisational prowess. Keep listening to this track (you'll have to go buy the record, trust me, it's worth your money) and you'll find that Ambrose stretches the gamut and slips from warm and fuzzy to harsh and edgy in the blink of an eye. The control he has over what sound he projects is probably the most telling attribute of his playing. He is constantly changing colors to fit different situations and to keep the sound of the trumpet fresh throughout the entire album.
Ambrose is a lofty fellow. His improvisations are full of elaborate motif development schemes, and angular what-did-he-just-play?s – The perfect candidate for a transcription on So Killing, Man.
This intro is the very first thing you hear when you turn Ambrose' record on. It's the intro to the first track on the album and I was immediately drawn in. I listened to it over and over again, each time hearing something new. A sequence here, a cool line there…In just 41 seconds, Ambrose does a detailed job at showing us that none of us are practicing hard enough.
Basically, he's really good.
**Analysis: PDF: Analysis
There were several challenges I faced when I starting thinking about transcribing this intro. For starters, it's unaccompanied. If you read my Tom Harrell post on his unaccompanied Joy Spring solo, you know that it's different because Tom was playing with a structure in mind, and his solo lined up perfectly with the changes of the tune Joy Spring. In this case, there is no underlying set of chord changes, and no underlying sense of time. Just a need to get from point A to point B, point B being the beginning of the tune (mm 20). Because the intro is timeless, I had to make some bold decisions, some of them I'm not incredibly fond of. I had to give each note a value in a solo that was very much ebbing and flowing, so keep in mind that if you intend to learn this solo (and this should go without saying) you have to listen to it first! The rhythms I chose are good, but they are sometimes arbitrary and forced. In order to understand the phrasing of the solo, you need only listen.
Right off the bat, Ambrose comes up with a melodic motif and then screws with it. He adds to the original two measure idea, develops it, and uses it as a jumping off point in to never never land as he soars with ease all over the instrument. I'm not going to lie to you, all those fast notes were hard to get down. I did my very best (I do not use software that slows down the passages) to capture the lines Ambrose plays, many of them idiomatic on the trumpet, which helped.
The thing that boggled my mind the most was when I started hearing the sequence within this seemingly random barrage of notes caressing my ear drums. I played it for a friend. Another friend. Another, and another, and all I could seem to say was "oh my god, that's just so sick, right?!" Right. Pretty sick. You can see from my markings that mid way through mm14 starts the sequence (labeled SEQ1, and bracketed) that ends part way through mm 16. Might sound short, but there is a lot of information in those two measures. Near the end there is another bracket (labeled SEQ2) but it's really more of a question and answer. The lines have the same rhythmic component, and both end with a tri-tone, the second being the inversion of the first. I promise you, this was not by accident.
Looking around the rest of the solo, I marked several target notes used as pause points for different phrases. For instance it's clear to me that the first three target notes listed are all related. The phrasing of each line is similar, and each one is a little longer and more angular than the one before it. This is a form of melodic development, even though the lines themselves don't sound like your typical "melody." Similarly, starting in mm17, Ambrose jumps off starting on a low Bb, plays a line that makes it's way back to a target not Bb, and jumps off again developing the idea. Both lines end with a half step in to the final note, first Bb-B, then Eb-E. This same motion can be found with the last note of mm11 and the first of 12, A-Bb, also the end of the pseudo sequential material listed above. Again, not a coincidence.
Those first two notes to the tune at the end of the solo are used earlier in the solo as foreshadowing. You can see that Ambrose alludes to the eventual main hook of the tune two different times, gradually getting the listener ready to hear the beginning of the song. Those two notes (boxed in the hand-written analysis) are seen in mm16 and mm18.
As always, there is plenty more in this solo than what first meets the eye/ear. I didn't mark everything in, so take that as an invitation to print a copy in whatever key you like and do an analysis yourself. Ambrose insisted via Twitter that he doesn't "really know anything about what [he] played – just blow and wiggle fingers … oh and pray" – but I hardly think that is the case. Either way, that's some pretty magnificent finger flapping.
**Done using the key of Bb
Follow Adam on Twitter at @AdamMeckler, he tweets a lot.
Comments
comments