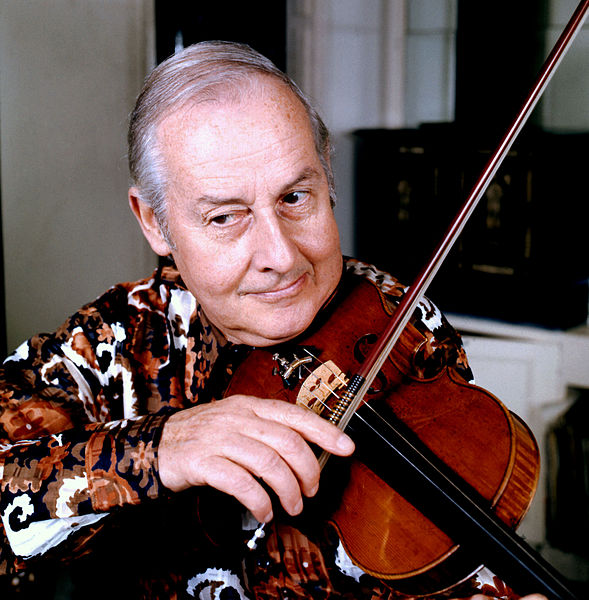 (Courtesy of Wikimedia Commons)
Audio clip: Adobe Flash Player (version 9 or above) is required to play this audio clip. Download the latest version here. You also need to have JavaScript enabled in your browser.
PDF:  Concert Pitch, Bass Cleff, Bb, Eb
After You've Gone, music written by Turner Layton, lyrics by Henry Creamer and performed by: The Quintette du Hot Club de France, featuring Django Rienhardt and Stéphane Grappelli.  From Djangology, recorded in 1949 and released by RCA Bluebird.
I chose this solo because it's lightning fast and really shows off Stéphane Grappelli's incredible facility and command of the harmonic language.  There's also a really cool juxtaposition of the two players' styles when Django takes 4 bars in the 2nd half of the A section.  Grappelli is a lot more 'in' with his harmonic language, throwing in a little bit of chromaticism here and there, and altering most of the A7 chords with a flat 9, but Django really takes it to a new level with multiple applications of syncopation, substitution and tons of chromaticism.  This is what critics mean when they say that Django was years ahead of his band mates.
The chords on the chart are the functional/traditional changes for the tune, whereas the substitutions played on the recording are covered in the analysis below.
I borrowed a bunch of my analysis terminology directly from Adam's posts for the sake of consistency, but I have added some stuff he doesn't do.  Here's a rundown:
GT = Guide Tone
I mark guide tones only when they are played on big beats, one and three. GT are often used as foundation, or jumping off points for the soloist to go into more uncharted territory
Modes
I will sometimes mark the scale mode the soloist is using if I like how it is used.
ANT = Anticipation
When the soloist plays notes outside of a chord in anticipation of the next chord.
CAT = Chromatic Approach Tone
An example of a Chromatic Approach Tone is when the soloist surrounds the resolution note with half steps. For instance, if the soloist plays Ab-F# over a G7 and resolves to G over the CMA7, that is CAT.
(D)NT = (Double) Neighbor Tone
This is similar to a Chromatic Approach tone, but diatonic.  I usually only mark Double Neighbors, but sometimes the single ones are interesting.  This is the soloists' way of zeroing in on a note and building up the listener's anticipation of the target pitch.
Alterations
I will sometimes circle alterations if they are prevalent, cool or reoccurring.
Comments
comments