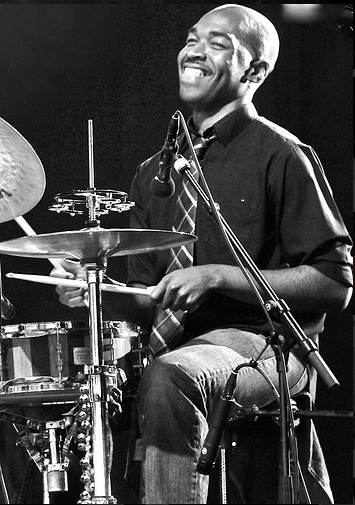 Byus, written by Walter Smith III and performed by: Ambrose Akinmusire, trumpet; Walter Smith III, tenor saxophone; Jason Moran, piano; Joe Sanders, bass; Eric Harland, drums.  From the album III, released 2010 on the Criss Cross label.
Audio clip: Adobe Flash Player (version 9 or above) is required to play this audio clip. Download the latest version here. You also need to have JavaScript enabled in your browser.
Download the PDF: Solo, Drumset Notation Guide
I initially transcribed this because I was playing it in a jazz group at Lawrence University (Appleton, WI).  The solo really shows off Harland's technical virtuosity and fluidity around the kit and is a prime example of why he is one of the most in-demand drummers right now.  This introduction is in 7 throughout and I chose to notate the 7 as alternating bars of 4/4 and 3/4 for ease of breaking down the beats when reading.  This intro sets up the tune beautifully, introducing the 7/4 feel that returns throughout the disjointed and angular melodies and hits.  Many of the individual licks are simple in conception but difficult to pull off at such breakneck speeds, one right after the other.
The intro is broken up into two parts of 8 bars each.  The first is mostly linear fills around the toms, snare, and bass drum that are purposely deceptive and disguise the meter.  The second part is more groove-oriented with cymbal/bass drum accents and fast double stickings, and it clearly outlines the 7/4 for the band to come in.  The stickings that I have written out are my best guess for what Harland played.  I worked them out as I was learning the transcription and they make the most sense to me.  I emphasized fluidity over straight-up technicality, thinking about what felt best with the least amount of movement.  If anyone has their own suggestions for stickings, I'd love to hear them.
A main factor in drum transcriptions is how the drums are setup and in this recording, I believe Harland is using a 4-piece kit (snare, rack tom, floor tom, and bass drum).  Its likely that his rack tom is actually just a snare drum with the snares off.  He has at least 2 ride cymbals, hihats, and a trash-crash stack to the right of his main ride cymbal.  In a recent YouTube video, Harland talked about the stack as a 18″ crash over a 12″ splash.  You can check out his setup here: http://www.youtube.com/watch?v=DMbn0Rm3DqQ
Here's the original handwritten transcription: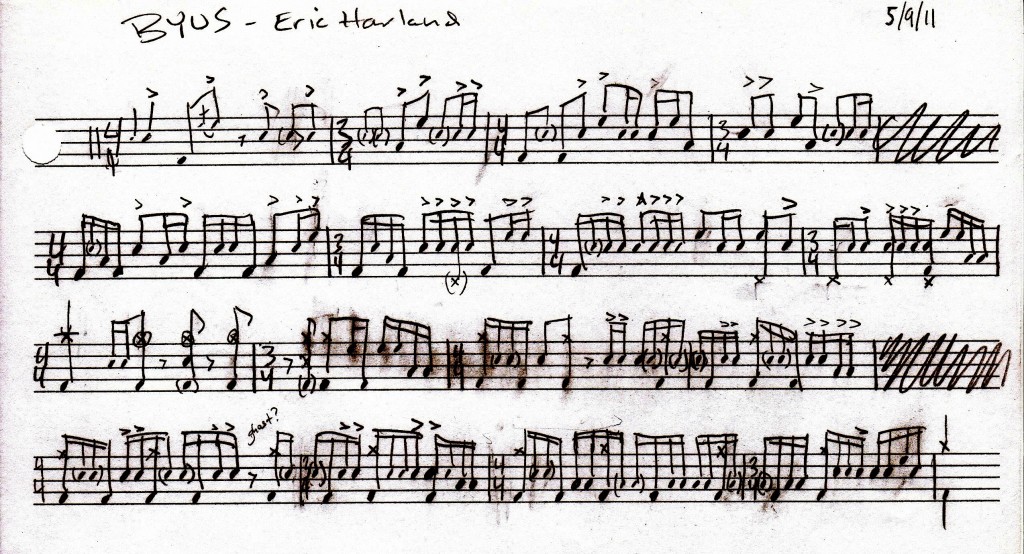 Comments
comments