Audio clip: Adobe Flash Player (version 9 or above) is required to play this audio clip. Download the latest version here. You also need to have JavaScript enabled in your browser.
Download the Transcription: Bb, Eb, C, Bass Clef
Ceora as performed by Lee Morgan from the 1965 Blue Note album "Cornbread." Featuring Lee Morgan on trumpet, Herbie Hancock on piano, Hank Mobley on tenor saxophone, and Larry Ridley on Bass.
This solo is a really great example of how a performer's time feel and use of inflection can make or break the solo. In my opinion this tune is rather 'vanilla' harmonically and Lee's lines aren't particularly complex (not that complex is necessarily better); it is the way that Lee both stretches the time and grooves right in the pocket that really makes this solo come alive to me. It is always important to study a recording in tandem with a transcription to help you get inside of an artists head and learn how they tend to phrase lines and use certain articulations and inflections. If you haven't really tried this approach before I think this Morgan transcription is an excellent starting point.
Analysis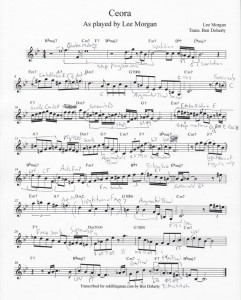 Comments
comments