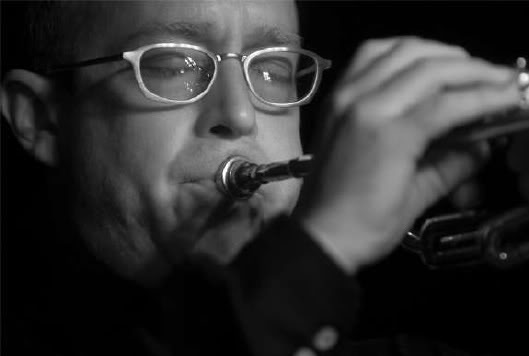 Download the Transcription: Concert, Bb, Eb, Bass Clef
Audio clip: Adobe Flash Player (version 9 or above) is required to play this audio clip. Download the latest version here. You also need to have JavaScript enabled in your browser.
**
Anyone that knows me, knows that I love me some Dave Douglas. Dave has been a huge influence on me both as a writer and a trumpet player, and this particular solo has been one that has haunted me for many years. Dave is a lyrical master, and this solo is a perfect example of his prowess. Almost the whole solo is played over a simple I (vi), ii IV V progression, but its basically just Bb major the whole time. His two horn writing is really some special as it is on display on this track.
continue reading!
The first part of this solo almost acts as an introduction to the main solo section. Dave is improvising during what sounds like is still the end of the head melody, He rejoins the melody, and then floats away as he pleases. I transcribed starting as soon as Dave starts to improvise, so there is some written material in between the improvising (Dave plays the harmony part in this section) that I labeled "written material" on the transcription. It is possible that Dave is simply improvising harmonies as well, because there are a couple in there that we don't hear for the rest of the song, but I'm just going to say it's written material since he isn't really improvising the way he is before and after that section. I'm talking about bars 18-29.
Since the groove in this opening section is very loose, Dave plays loosely over the changes, making it difficult to stamp specific rhythms on what he is playing. You'll notice that I used "lay back" often because his rhythms are somewhere in between a triplet and something else, for instance. AKA he's "floating," which is a challenge to notate accurately. As always, it's just better to listen to Dave, and mimic that. Once the groove kicks in, Dave plays more inside the time. The rhythms can be complicated (anyone who's been to a DD master class knows of his metronome exercises), but they are decipherable.
Just take a quick look at the eight bars starting at measure 32, when the beat kicks in. Dave completely changes the way he was playing to fit inside the groove. His rhythms are exactly in time, and he starts developing a new melody immediately. He acknowledges the groove, and then goes right back to some floating. The way he slips in and out of the pocket is masterful.
I was actually just talking to a friend about Dave's tunes last night. He had a packet of all of the tunes from Meaning and Mystery (that he got directly from Dave, I guess), and we were looking over the charts for a minute. The brilliance in Dave's writing is multifaceted, but the thing that always gets me is how he writes for two horns. His two horn writing is unlike any other composer that I know, and in no tune is it more apparent to me than Blues To Steve Lacy from Meaning and Mystery. It is simple, beautiful counterpoint that strips away all the nonsense and just says, "Here is a beautiful melody. Deal with it." This tune November is the same way for me. Freak In was the first Douglas record I ever bought, and I'll admit, I was a little freaked out at first. November was the tracked that reeled me in, and forced me to listen to the entire record as a whole product, and I'm so glad I did.
There is one other thing I didn't mention that "gets me" about Dave's writing, and that is the way he blurs the line between what is written and what is improvised. This track is a great example. If you listen to where I started to transcribe the tune, you can hear how it's not totally clear whether this is a "solo section," or if it's just some soloing around the melody or what. The way he plays with your anticipations and assumptions about what "should" happen in a composition is really something special.
There are some bridge changes to this tune, as I am sure you hear on the recording (go buy it!!), but I didn't transcribe them because I am terrible at that. If you know them, leave them in the comment section below, or shoot me a email: adammeckler@gmail.com.
Despite how the solo looks at first glance, it's actually very easy. Dave is playing in Harmon Mute, but you can just as easily play this solo open, or on another instrument all together.
***One of the things that is cool about what we do here at SoKillingMan.com is that we are transcribing new solos for every post. These aren't stock transcriptions I have laying around. I've always loved this album, but I've never transcribed from it until now. So, while you're learning, I'm learning as well. Dave has always been my hero of the trumpet, so I think I bring a certain understanding of his goal aesthetic to my transcriptions of his playing, but we're all on here just trying to learn some shit, and that is cool.
**Clip starts at mm. 32**
Comments
comments