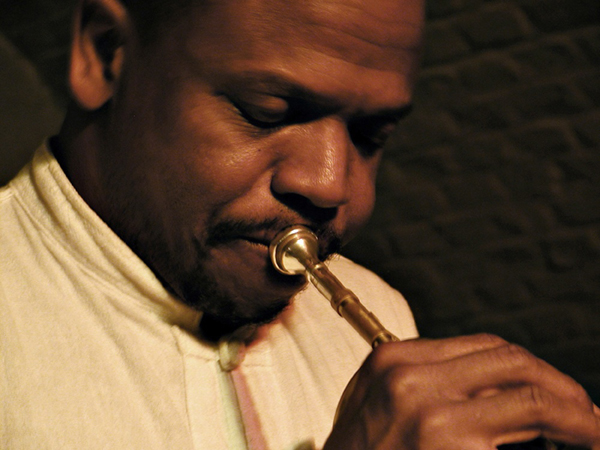 Download the Transcription: Concert, Bb, Eb, Bass Clef
Lord, Lord, Lord:
Audio clip: Adobe Flash Player (version 9 or above) is required to play this audio clip. Download the latest version here. You also need to have JavaScript enabled in your browser.
Just a Closer Walk With Thee:
Audio clip: Adobe Flash Player (version 9 or above) is required to play this audio clip. Download the latest version here. You also need to have JavaScript enabled in your browser.
This week is a two-for-one. If you read my blog post on my trip to New Orleans, you know that I had an exciting time while I was there. Among other things, I had the absolute pleasure of getting to hear Leroy Jones at Preservation Hall, and since the Jack Brass Band (band I was on tour with) had played there the night before, I got to meet Leroy and talk to him a little. Mainly, it was just a treat to hear this man play traditional New Orleans music all evening.
Since most people don't know who Leroy Jones is (which is a damn same), I'll just give you a short synopsis. Leroy is probably best know for his work with Harry Connick, Jr, but he was also a member of the band that became the famous Dirty Dozen Brass Band. Leroy has been performing all around the world with the Preservation Hall Jazz Band and Harry Connick, and was born and bred in New Orleans. Leroy is as authentic as it gets, and when you hear him play over these simple I IV V I progressions, you wonder if you should ever even try to play trads again. It's that good.
Somehow Leroy has gone widely unnoticed in the trumpet community, which I am particularly perturbed about. It seems as though if a trumpet player comes out of the woodwork with a less than "standard" trumpet sound, the International Trumpet Guild doesn't know what to do with him. He fits nicely in his cute little New Orleans box, so that's where we put him and that's where he stays. Spoiler alert: You've all been missing out.
I finally heard of Leroy when I joined the Jack Brass Band a year and a half ago, and didn't get to really listen to him until recently. I had learned a couple of trads from his records, but I was too pre-occupied learning heads to give his improvising a second look. Then I heard him as Pres Hall and that all changed. Leroy is a lyrical master. He's like Clifford Brown in the way that he will play the same note so many different ways in an improvisation. My teacher in undergrad once told me that I should just practice all the different ways Clifford Brown plays grace notes. Well, you could say the same about Leroy. He is a master of inflections, and his sweet, muffled sound just makes you swoon with every note.
Then he sings! Apparently he hates singing, or avoided it, but his voice is unbelievable. He grew up playing brass band music in the church so he really has that gospel thing both in his singing and his trumpet playing. The record these two solos are lifted from does not feature Leroy singing at all, however, and is not his most well-known album. I just loved these solos and couldn't help but include Leroy in our transcription fun.
The two other albums that you might be privy to are his "Props for Pops" and "Mo Cream from the Crop," which I will include links to Amazon.com for in the post as well. Both stellar records, and a little less "arranged" than the one these solos are from.
Analysis
I got in to the nitty gritty a little bit up top, but let's dig in a little here. I picked two different solos, both in the key of Bb, because I was fascinated by the similarities and differences between the two solos. I won't be posting a hand-written analysis this week because I am on the road until March 4th with A Love Electric, a rock/jazz thing and I have no access to a scanner, but I'll talk a little about what I mean.
If you check out the transcriptions (The PDF download has both solos), you'll notice that the beauty if Leroy's playing is the way he navigates simple changes with simple arpeggiations of those changes. Nothing crazy fancy harmonically, but it is the way he uses the blues (mm. 12-15 Just a Closer Walk, mm. 4-7 Lord, Lord, Lord) and the way he messes with playing over the bar line (mm. 25-32 Just A Closer Walk, mm. 1-3 Lord, Lord, Lord) that makes his playing truly special.
Leroy is a modern trumpet player, so at times you'll notice techniques used that are associated mostly in bebop or hard bop settings. One such moment is Leroys line beginning in mm. 15 and ending at mm. 19 in Lord, Lord Lord. It really just makes me love Leroy's playing even more because he subtly shows us that he is well-versed in styles dating post 1940, and it seems so organic in his improvisations to call on that expertise from time to time. The first thing I thought when I heard Leroy Jones live was "Oh wow, he actually sounds a lot like Clifford." It may not be overt, but it's there, and it's part of what makes his playing so palatable for the common "modern jazz" listener.
Go shed his solos. Trumpet players, you may have to take some things down an octave. Leroy is playing way up in the stratosphere, but you can't even tell because he still sounds so warm and sweet up there.
Until next time!
Comments
comments