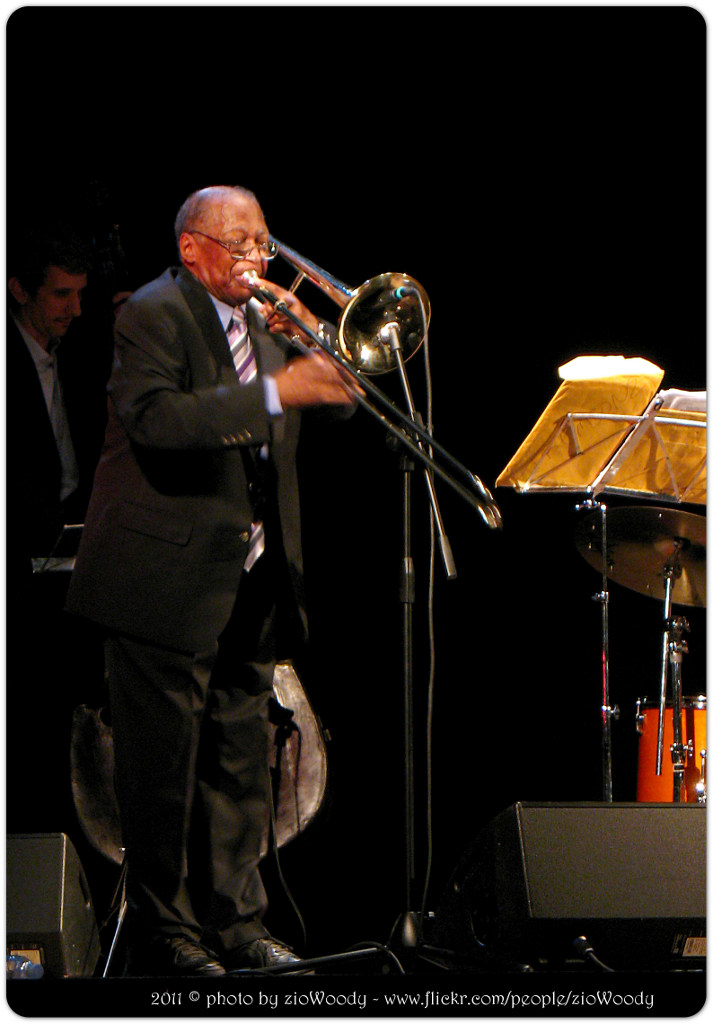 Audio clip: Adobe Flash Player (version 9 or above) is required to play this audio clip. Download the latest version here. You also need to have JavaScript enabled in your browser.
Download the PDF: Treble Cleff, Bass Cleff
Blues March, written by Benny Golson and performed by the Jazztet: Art Farmer, trumpet; Benny Golson, tenor sax; Curtis Fuller, trombone; McCoy Tyner, piano; Addison Farmer, bass; Lex Humphries, drums.  From Meet the Jazztet (LP), recorded 1960, re-released (CD) 1991 by Geffen Records.
When I originally sat down to decide which solo to pick out, my first thought was to go with something similar to what my cohorts Ben, Greg and Adam would choose.  But that's not playing to my strengths, and it's not why Ben asked me to be part of this project.  So I thought like a string player and picked a trombone solo, figuring that if I'm going to have a fighting chance to play it on my cello that'd be the best bet.  A safe move in theory, although where Curtis Fuller is concerned that is not necessarily the case.  What a beast!
Other than the last 4 measures, this is a very playable solo.  More importantly it's very well-crafted, and I love his clear but creative use of the blues scale.  The first chorus is a very strong introduction of a couple ideas/motives that he goes on to develop in the following choruses.  He also manages to tie the whole thing together with a very clever 5-note conclusion which is a distillation of several ideas from his first chorus.
Comments
comments