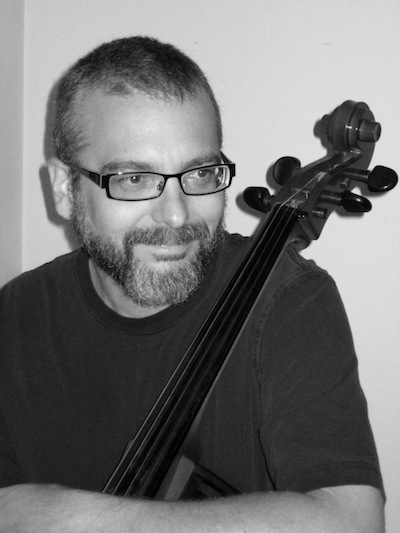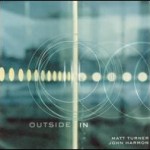 Audio clip: Adobe Flash Player (version 9 or above) is required to play this audio clip. Download the latest version here. You also need to have JavaScript enabled in your browser.
Download the PDF: Bass, Treble, Bb, Eb
(click album image for purchasing details)
Matt Turner is a fabulous cellist and pianist based out of Appleton, WI where he teaches improvisation at Lawrence University (all three of us SKM contributors are LU alums).  Matt plays with pianist Bill Carrothers, and has also played a fair amount with local Minneapoils group the Fantastic Merlins (visit his home page for the full discography–it's extensive).  From listening to this solo you might be able to tell that Matt's musical background involves a certain level of mastery of jazz piano, as the harmonic implications of his melodic lines are very clear and intentional.  This is very different territory from the totally modal Eugene Friesen solo I posted a while back, as there are some nasty changes to navigate, and huge lateral flexibility as there's no rhythm section.
As usual I'd like to throw out the disclaimer that this transcription is but one interpretation of what's going on and serves a a study tool, rather than an attempt to describe what Matt was thinking or what he intended us to hear when he played this solo.  One bit of license I took was doubling the note values, since this tune is a very, very slow ballad and should actually have 2x the number of measures.  This would have been a bit more difficult to read and would have looked really fast on the page, so I opted for this version which looks more approachable, which it totally is.
I took a couple cello lessons with Matt and got some very important advice that's really stuck with me, and is all illustrated very well in this solo.  The first thing he mentioned was register, as the cello has a very large range and there's a lot of choices to be made.  Specifically, he noted that the mid to upper registers are preferable for solos since they cut better and don't get buried in the accompaniment.  As you can see he doesn't go below D3, leaving the lowest 8ve of the cello's range untouched.  Another thing he mentioned as being important to him is the use of empty space in the solo, connecting ideas by implications, rather then a constant stream of sound.  There are several long-ish pauses of 2 or 3 beats throughout the solo (mm. 3, 12-13, 24-25), and quite a few shorter pauses as well, many of which fall on downbeats.  The other thing Matt stressed to me was accuracy, and not only intonation but note choice, and knowing exactly what note you're aiming for.  And if I could describe this solo in one word it would have to be "intentional," which doesn't only refer to Matt's note choice, but to all of the aforementioned elements of his style.
Comments
comments