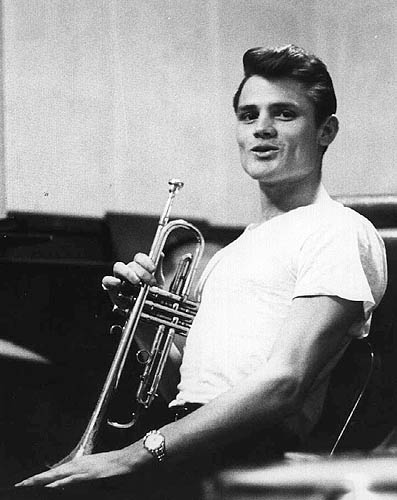 Audio clip: Adobe Flash Player (version 9 or above) is required to play this audio clip. Download the latest version here. You also need to have JavaScript enabled in your browser.
Download the PDF: Bb, Concert, Eb, Bass Clef
Melody!
If there is one thing no one can deny about Chet Baker, it is that he was a master of melody (and that he was a massive drug addict). These early 1954 live recordings show too that Chet was well-versed in the bebop language and had been listening to and even playing with Charlie Parker. It's this early playing that I think is Chet's most potent as an improvisor.
This is the second solo I am posting from the "Quartet Live Vol. 3" record from 1954. The first was Zing! Went the Strings of My Heart, a blazing fast tempo that showed off Chet's natural ability to play fluidly within a very fast tempo. This recording shows Chet's inherent knack for melody, and what better way to show that off than blowing over a mostly diatonic tune?
Bird's My Little Suede Shoes (AKA "My Little Red Suede Shoes" as Chet calls at the beginning of this track) is simply a bunch of ii V7 I's in F major. Bridge goes to the five chord with a couple ii V7s in the relative minor, but it's pretty much an F maj Diatonic tune. Chet exploits the nature of the tune in his improvisation nicely, adding chromaticism from time to time.
One really nicely developed melody happens from mm 41-58. Chet manages to sound totally relaxed and laid back in his feel and tone, while playing at a medium-fast tempo, and comes up with some incredibly potent melodic ideas.
This would be a really great solo to transpose and practice in all 12 keys. The benefits of practicing solos in all 12 keys are pretty obvious, but this solo in particular would be great because it stays very melodic, which would help with coming up with great melodic ideas in keys that we don't often playing (Bmaj, Emaj etc).
There won't be an official "analysis" of this tune since I am currently on the road playing the Great American Brass Band Festival in Danville, KY with the Jack Brass Band. Keep your dial tunes to SKM, though, as we have some great guest contributors coming soon in addition to our regularly scheduled programming.
Adam Meckler is a professional trumpet player and composer from the Twin Cities, MN. Check him out at www.adammeckler.com – Follow Adam Meckler on Twitter at @AdamMeckler
Comments
comments